These challenging times of the Covid-19 pandemic have changed how we do business worldwide, it has made us think about our traditional approach to running our businesses. One of the aspects that have been most adversely affected is Sales & Marketing and how we continue to sell and promote our products and services whilst our teams are having to work remotely.
Although remote working is not a new concept for many companies, the current situation has restricted traditional access to not only our own people but also our customers, partners and suppliers too. So how do we continue to operate as 'normal' and yet still maintain our sales revenues? How do we keep our sales teams motivated and productive within the constraints imposed by the lockdowns?
Some businesses have been able to embrace and enhance their E-commerce technologies and processes to retain, and in some case increase, their sales revenues. These digital platforms have given us and our customers new channels to continue to buy and sell. However, for businesses that still require human interaction and remote sales teams within their processes, it has posed a challenge.
Of greatest significance for remote workers has been the need, now more than ever, for online tools to enable them to generate new leads, communicate effectively with their own teams and clients, have access to information to be able to sell effectively and also support and retain their clients with real-time information.
Below we explore how Odoo addresses some of these challenges with simple to install online apps that seamlessly work together to provide a connected business management system that is available 24/7 anytime anywhere.
What is Odoo?
Odoo is a suite of business apps that can be used on their own or seamlessly connected to manage all business processes from lead to cash. In the current challenges, it has generated great interest as it allows SMEs to be able to quickly set up online tools to allow Marketing and Sales to continue to operate with minimal disruption. Also at the same time, it creates a platform to enable other parts of the business to be brought on board as cash starts flowing and the business starts growing again. There are over 10,000 apps that not only cover your standard ERP needs but everything from Website and eCommerce tools, Marketing and Social Media, Sales and CRM, Accounting, Manufacturing, Inventory and Warehousing, and other modern productivity tools for business. No more painful integrations and with over 5 million users worldwide it seems to be creating a stir!
Modern digital marketing tools help improve lead generation
Generating and capturing new leads for sales is the lifeblood for all businesses, so to be able to successfully get this running again quickly to bring in new business is imperative. Odoo has all the tools you need to easily build professional-looking email campaigns with minimal IT knowledge. It gives you immediate results on the success of your email campaigns such as sent, received, opens, clicks and bounces. From there you can either send out further drip marketing campaigns as part of the campaign or automatically schedule follow up calls for the sales to the team to call the contacts who opened your emails.

Just this simple setup transforms the conversion rates of your campaigns and lead generation.
As the marketing app is part of the main Odoo database all the campaigns can be run directly from a single database without the need to export or import contacts to run email campaigns.
Use of integrated Social Media, Web Push Notifications and live chats further helps to enrich the prospective customer's first engagements with you.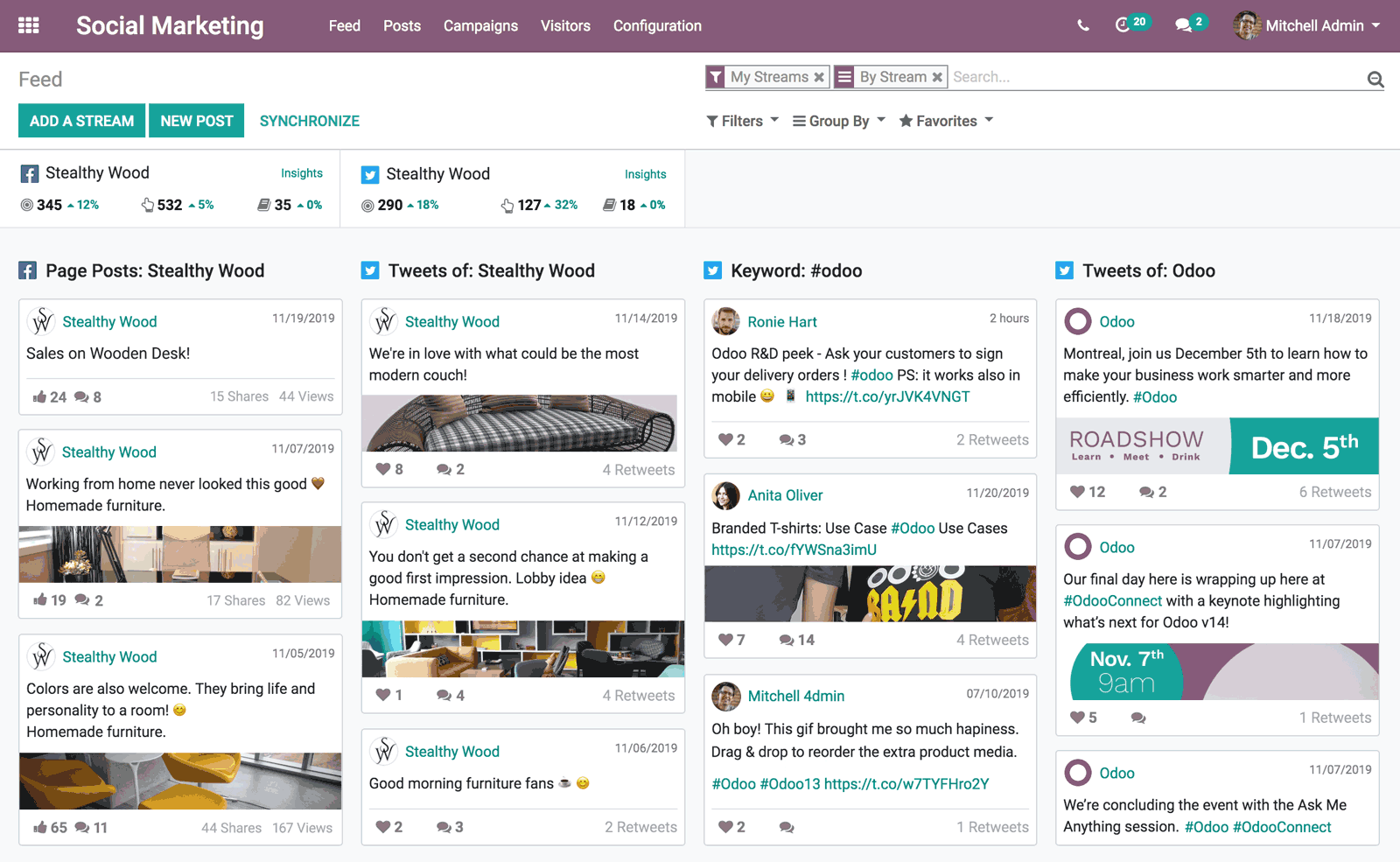 CRM to improve the customer experience
Once leads have been generated an integrated CRM app helps to keep the continuity to allow leads to be followed up and converted into opportunities efficiently.
All teams need good visibility of their sales pipeline so that they can focus on the right opportunities at the right time so that no opportunity is missed. A simple Kanban view and graphical dashboards help in retaining that focus.
Your own and team dashboards help everyone to remain engaged with live real-time forecasts so that performance can be easily tracked against the target.
As business intelligence is real-time it also means you don't have to spend endless hours creating management reports.
With the ability to get a 360-degree view of the client (historical, pending and future activities) and the ability to carry out live communications and alerts with your internal teams and the customer, you can really optimize your selling process and conversion rates.
Speed up the sales cycle process
An area of the sales process that can become a bottleneck for sales whether you are working remotely or not is the fast creation and tracking of quotes. It is well known that if you turnaround a quote quickly and follow up in a timely way, the conversion rate improves dramatically.
Within in Odoo, you can easily manage your products, pricelists, and create fast and accurate quotes that can be released instantly to your prospect for approval. With the use of eSignature and online payment, the client's experience can be greatly enhanced, and you can convert your quote to an order and get paid instantly too.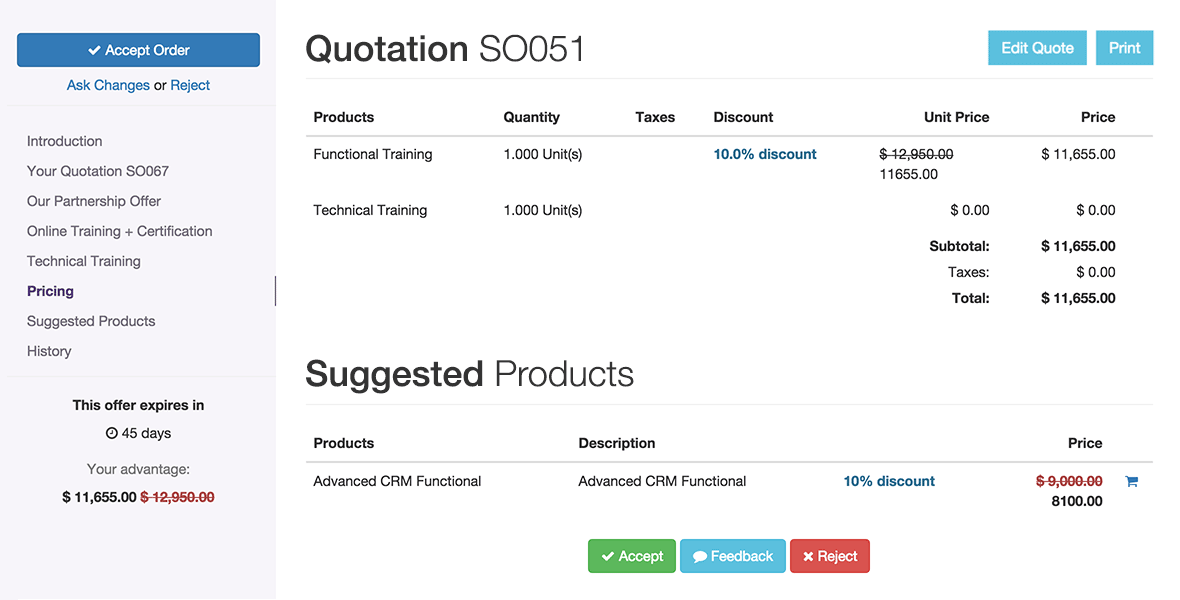 Simple steps to transform your business
For many businesses, these difficult times are a challenge but also an opportunity to transform how we do business so that we can optimize the tools and processes for our people to win and retain new clients.
As with many things in life these changes need not be big but should be acted upon quickly. With Odoo you can start with areas of your business that will give the fastest return and then introduce improvements in other areas as needed.
Wish to explore more?
Connect to Akarigo now